Scarabs represent a micropayment revenue system which replaces the earlier optional $4.95/month Subscriber feature. A player can click either the word 
Scarabs
 in the top menu, or the scarab icon in the lower-right corner of the screen, for current information on scarabs.
Acquiring Scarabs
Edit
Every new account comes with ten free scarabs. In normal play, these scarabs will last about three weeks. In order to continue upgrading cities, more scarabs are needed. It is possible to win the game without purchasing scarabs, by either buying them or acquiring scarabs through quests or trades.
Opting not to purchase scarabs will make the game much more difficult. Fully upgrading four cities to level 22 with two pyramids will require acquisition of just 25 scarabs.
Purchase
Edit
Scarabs can be purchased from Tilted Mill via PayPal. The current prices are as follows:
60 for $24.00 ($0.40 each)
25 for $11.25 ($0.45 each)
10 for $5.00 ($0.50 each)
Envoys, through quests, can provide the occasional free scarab.
Scarabs are tradable by those people who have purchased additional scarabs. You can attach scarabs to scrolls. You can not trade away your last 10 scarabs.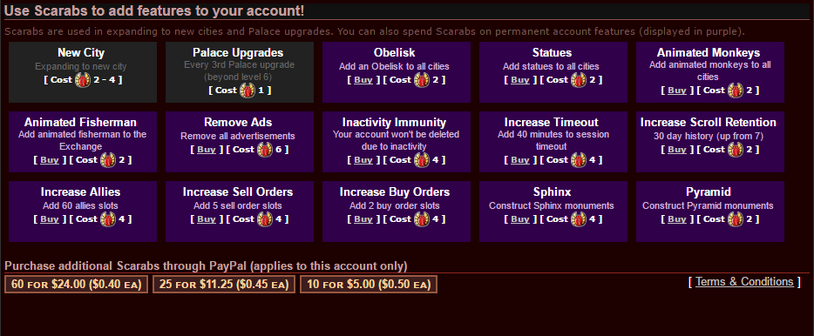 Scarabs are currently required buy the following critical gameplay items:
Palace upgrades (1): Major palace upgrades. (eg: when a player gets a spec point; every 3 levels starting with level 7)
New cities (two for 2nd city, three for 3rd city, four for 4th city)
Sphinx (4): Ability to construct Sphinx monuments (in total, for both possible monuments)
Pyramid (2): Ability to construct Pyramid monuments (in total, for both possible monuments)
Scarabs can also be used to purchase the following items, which are minor gameplay improvements or "just for fun":
Obelisk (2): Add an Obelisk to all cities.
Statues (2): Add statues to all cities.
Animated Monkeys (2): Add animated monkeys to all cities.
Animated Fisherman (2): Add an animated fisherman to all cities.
Remove Ads (6): Remove all advertisements.
Increase Timeout (4): Add 40 minutes to session timeout.
Increase Scroll Retention (2): 30 day history (up from 7).
Increase Allies (4): Adds 60 allies slots.
Increase Sell Orders (4): Add 5 sell order slots.
Increase Buy Orders (4): Add 2 buy order slots.
Inactivity Immunity (4): Your account won't be deleted due to inactivity
When scarabs were originally established, there were some questions about how non-US residents or non PayPal users could send money via PayPal.
Opinions differ on the fairness of introducing this scheme because during the original monthly payment option you could build and upgrade at the same rate as paying members. Now paying members have an advantage.